Email your CV: careers@blaney-group.com
Are you looking for a new and exciting opportunity? 
Jobs in Ballymena, Co. Antrim include: Business Development, Marketing, Sales, Engineering, Design, Fabrication, Precision CNC Machining, Manufacturing and Production.
Global job roles (Agricultural Machinery) include: Sales Representatives, Territory Managers, Dealer Support & Global Export
Who can apply? We can offer many exciting and versatile opportunities, across many disciplines. Whether you're an experienced professional looking for a new challenge in a permanent role or, a student looking for a placement / apprenticeship drop us a quick Email.
Our Story
We careers and Opportunities in our Jobs in Engineering Slaes Marketing Design. Today the BLANEY Group is made up of five engineering based companies. They are all home grown businesses employing some of the best local talent in various fields of work, including engineering, sales and marketing.
The companies were founded by Sean Blaney, whose passion for engineering was developed in his young teenage years when he got his first motocross bike, after years of saving up by gathering potatoes and selling eggs.

Consider the possibilities
At Blaney, we want to help develop your career, not simply find a job.
Our continued advancement lies in our ability to deliver the next generation of ever more advanced and innovative products that delight and excite our customers.
To achieve our ambitious plans, we want you to join us, allow us to further develop your talents and set you on the path to an exciting career.
Take your place in an industry-leading team. Your work will contribute daily to our global success.
Become part of the well-oiled machine that is powering our rapidly expanding future.

Working at Blaney
During the last 25 years, BLANEY has become one of Northern Ireland's most respected home grown brands. Its products lead the way in reliability, style, performance, quality and personality. The use of cutting edge technology, unique materials and craftsmanship exceed the expectations of our customers.
The combination of ambition, a unique culture and dedicated people makes BLANEY truly special as well as providing an exciting and rewarding environment.
WE BELIEVE EXCELLENCE IS ABOUT STRIVING TO BE BETTER, HOWEVER GOOD YOU THINK YOU ARE.

IT DOESN'T MATTER WHERE YOU GET TO IN YOUR CAREER, WE WILL ALWAYS FIND A WAY TO HELP YOU EXPLORE NEW IDEAS, RISE TO NEW CHALLENGES AND DEVELOP NEW SKILLS.
RECRUITMENT
BLANEY Group is looking for high calibre individuals with a passion and energy to strive to achieve the highest standards in everything they do. There must be an eagerness to deliver in a fast paced, demanding environment and to rise to new challenges on a daily basis.
When it comes to selecting the right people it's as much about attitude as it is about academic success.
Our Innovative Future
BLANEY is embarking on an unprecedented investment locally in product creation and capital investment, spending millions of pounds on a programme which will see us launch a number of completely new products or updated models for new markets across the globe.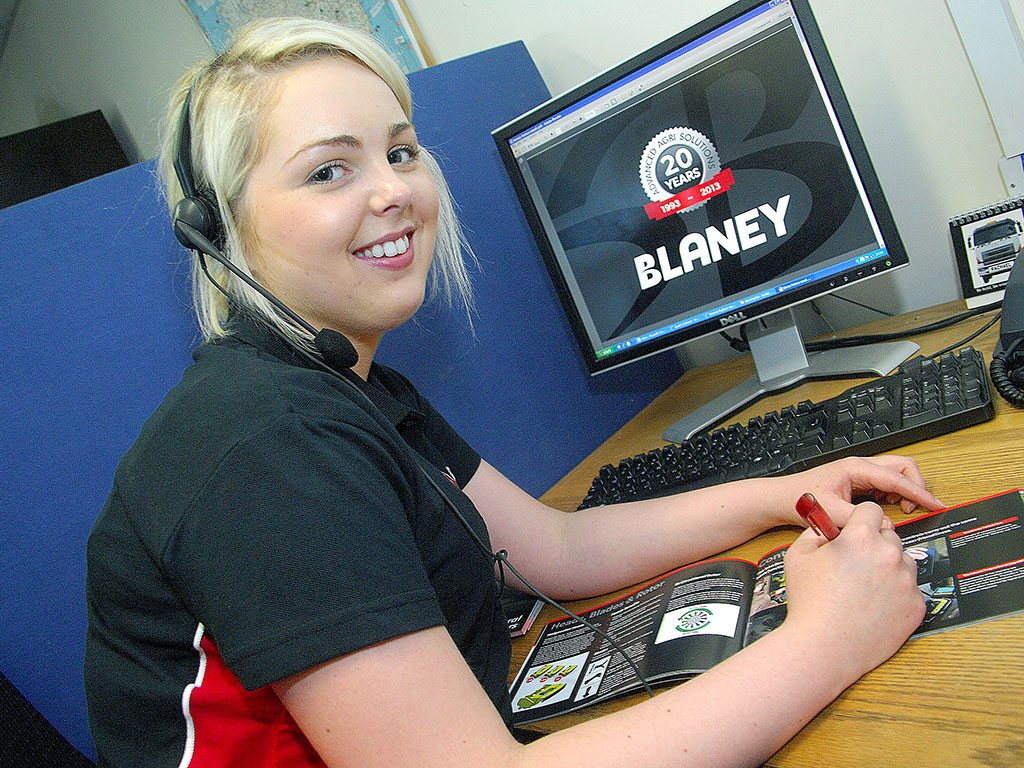 My time at BLANEY was really rewarding
Progression Within Blaney
"I am the Principal Development Engineer at Blaney Agri and joined as work experience during university holidays. Being an intern you get the chance of working in many different areas of the business. This gives you an appreciation of the various departments and how they are all vital to developing the product. The employees are the best thing about working here. They all have the same drive and enthusiasm that is required to work for a successful, international company. If you are interested in engineering or business, then there is no better place than BLANEY. The level of "On the job training" is second to none, with opportunities for progression and the workforce will make you extremely welcome too."

– Arthur, Principal Development Engineer
"I was on one of the engineering schemes at BLANEY and have now progressed to be the Operations Manager at Blaney Gears precision engineering. At the time when I applied to be on a scheme here I chose BLANEY because it seemed to be very innovative and were interested in developing my skills to better myself. One of the greatest things about working at BLANEY is being able to use my initiative to make a difference to the company. If you are successful at getting onto one of the many BLANEY schemes you should put everything into it and the company will return the effort many times over. "

– Nigel, Operations Manager
As for the future, BLANEY is focused on sustainable and profitable growth, Expanding both its product range and presence around the world and investing heavily in its people, new products and advanced technologies to serve its growing global customer base.