Dual rollers offer the most cost effective solution to grassland weed control. Only weeds are targeted for massive savings on chemical and it's eco-friendly.
Our Agricultural Weeder machinery for weed removal used in weed control for soil preparation or cultivation has significant savings over conventional systems.
Blaney have been pioneers in developing weed wiping technology which has become the most effective proven alternative to boom spraying, thanks to massive savings on chemical. By targeting only the weeds with herbicide, the grass and valuable clover are left untouched and grass growth rate is not affected. Weeds on grassland can be controlled effectively though weed wiping provided the weeds are taller than the grass.
Blaney have developed a range of revolutionary patented Weed Wipers to deal with the toughest of weeds, including the 2.4m wide Quad-X Dual roller Wipeout 2™ and  Xterminator 2™  which can all be towed behind an ATV, Utility Vehicle or Tractor.
The tractor mounted wipers, with contact widths from 2.4m -6.6m, offer a unique solution for weed control even across larger grassland areas.
Environmental Benefits
With no off spray, wildlife habitats and species rich protected areas are less affected and it makes weed control healthier for you too.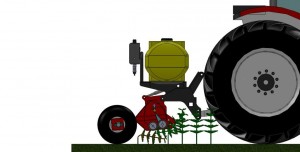 For smaller applications or if you can't access your ground with your tractor why not try our ATV Weed Wipers towed models manufactured by Quad-X our ATV machinery division, available in 2.4m widths with flotation tyres as standard to tackle those wetter areas tractor can't reach!