Boost grass and save fertilizer. The Blaney Aerator releases the equivalent of 50kg of nitrates per hectare.
Compaction of grassland is a common problem caused by livestock and heavy machinery which reduces grazing potential.
The Aerator blades cut through the compacted layers of soil to open up fissures for better drainage, more efficient use of nutrients and healthier grass. A Blaney Aerator is a worthwhile investment that will last for years, boost your grass yield and reduce your fertiliser expense, improve slurry matter retention and nutrient uptake by roots
Advantages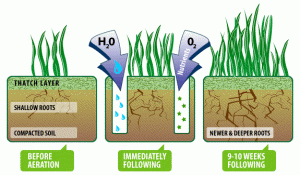 Oxygen introduced into soil
Increased root development for better grass growth
Improved Nitrogen fixation for legumes e.g. clover
Increased microbial action for better use of fertiliser- Reduce fertiliser bills
Soil recovers quicker after mowing
Surface drainage improved (less rainwater & slurry run off)
Less compaction
Less poaching by livestock
For smaller applications or hard to reach areas why not try our ATV Aerators manufactured by Quad-X our ATV machinery division, available in 1.2m widths.