Lamma 2018
November 27, 2017
Blaney Machinery Innovations at LAMMA
Blaney Agri, Co Antrim based machinery manufacturer, are pleased to be exhibiting at the Lamma Show – stand R59 where a selection of machinery for feeding and bedding, hedgecutting and weed control will be on display.
Blaney are well known for their bale unrollers, especially the Forager X10 which is now a well proven, life-changing piece of equipment. For many customers it has become the most prized tool they own, being easy on the back and the pocket, saving hours of daily back breaking labour and reducing bale waste by around 20% for improved profits.
Blaney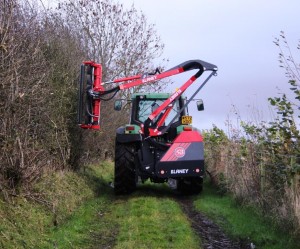 are excited to be showcasing the C600 hedgecutter featuring Blaney's power shredding technology for a tidy finish. Blaney as an independent manufacturer have no links to any other range and so have no restrictions in their design, giving them the ability to give experienced users exactly what they want.
With the autumn/winter season upon us, many farmers are looking for ways to save time in daily labour intensive chores. For feeding round bale silage Blaney offer the acclaimed Forager X10 bale unroller, designed to be a 1 man and 1 tractor operation to handle and feed out wet and misshapen bales. With an ethos of continual improvement Blaney have perfected this machine over the last 10 years since its launch.
Another machine designed to save time and money for more profitable farming which will be on display at the Blaney stand includes the CB Discus cubicle bedder. It is ideal for spreading sand, sawdust, shavings, lime mixed or chopped straw for a clean and comfortable bed for happier and healthier livestock.
Blaney Agri have been pioneers in the weed control market, and are pl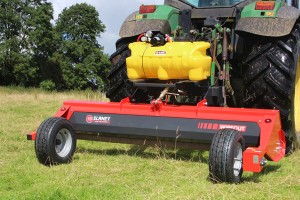 eased to be exhibiting the acclaimed Wipeout, patented technology that gives up to 100% weed kill in one pass thanks to its unique double roller system and automatic weed detection an chemical application system. With contact widths up to 6.6m the Wipeout offers the most cost effective solution to grassland weed control, offering up to 97% savings on chemical compared to conventional boom spraying. For those with a more traditional approach to herbicide application Blaney will also be exhibiting the TGS Grassland sprayer with Deluxe boom.
If you would like to find out more about the Blaney Agri range, request a brochure or DVD please visit the team at stand R59 or call 028 2587 2801.