Come and see us at stand 7.8, Lamma Show
April 20, 2022
Blaney Agri, Co Antrim based machinery manufacturer, are pleased to be exhibiting at the LAMMA Show, NEC Birmingham, from 4th-5th May – stand 7.800 in hall 7. A selection of machinery for hedgecutting, shredding/topping and weed control will be on display.
Blaney Agri offer 6 widths of Tractor Power Shredder from 1.3m/4'4 to 2.7m/9'. Although designed primarily to work in dense vegetation, they are also extremely effective for topping grassland areas, allowing you to work at faster travel speeds, saving valuable time.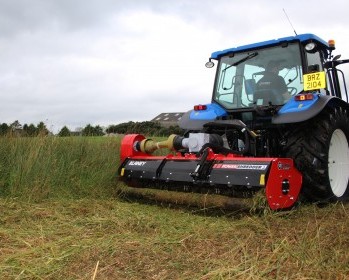 Compared to a flail mower, the Blaney Agri Power Shredder can be used with smaller HP tractors. A typical tractor flail mower requires a tractor of 120+ HP. But with most stock farmers using 80-90HP tractors, Blaney Agri have developed the Power Shredder range to ensure impressive capabilities with these smaller tractors which gives the added advantage of being lighter and causing less damage to the ground.
Blaney's development engineer says, "The Power Shredder rotor runs at a much higher speed than any tractor flail and up to 3 times faster than a tractor topper for more cuts per stalk and a finer chop and more importantly greater efficiency." The Blaney Agri Power Shredder has been shown to reduce diesel cost by up to 12% compared to a tractor flail thanks to less load on the engine and greater efficiencies. In today's market, profitability for any landowner or farmer is essential, and the Blaney Agri Power Shredders can help save you time and fuel. Although it is initially cheaper to buy a tractor topper, stones can cause catastrophic damage. The Blaney Agri Power Shredder is available with special blades with a double link to prevent damage by being able to tuck up around the rotor. It is an ideal alternative to a topper and leaves a very tidy finish.
The HDX Excavator Cutting Head incorporating Blaney's power shredding technology is the ideal solution to hedge cutting and shredding dense vegetation in inaccessible areas.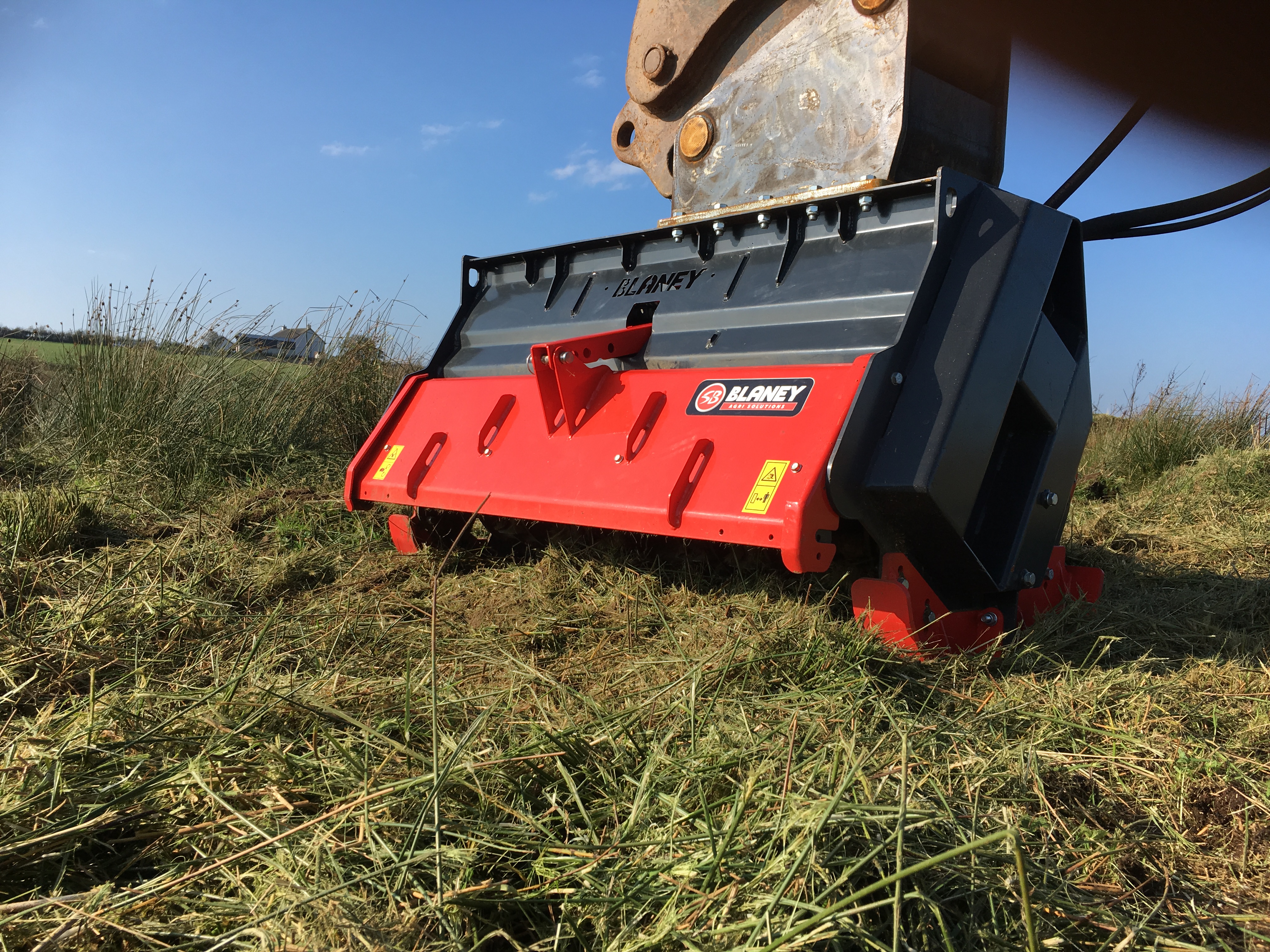 This heavy-duty, high-durability model is intended for use in a contractor capacity, where the ability to get more work done in the winter months is welcome.
Building on Blaney's power shredder technology, the HDX head uses a high speed dynamic rotor which works in combination with integrated shark fin blades, resulting in material that is chopped to a finer grade. Skids are adjustable and provide excellent coverage. Perfect for hedge cutting and tackling rushes and scrub.
Blaney Agri have been pioneers in the weed control market,and are pleased to be exhibiting the TGS Grassland sprayer with Deluxe boom. The Blaney Agri range offers the farming community a sprayer (400L- 1200L) that will outperform any cheap Eastern European import and compete favourably on price with established brands.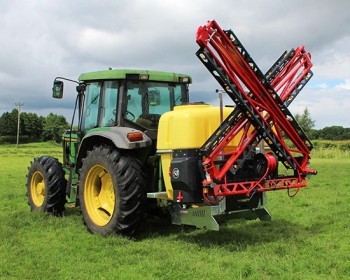 The Blaney TGS sprayer range is equipped with high specification pumps and a high performance control system. The newest model of deluxe booms enhanced for rough ground applications will be on display showcasing their clever design which offers welcome protection for the nozzles from accidental damage and to avoid additional calibration requirements. This design also incorporates an anti-drift function by protecting the exit point of the nozzle for a more accurate and efficient spray pattern. Adjustable height and angle settings of the outer sections help protect your investment by allowing you to keep within the boundaries of the new test regulations where little allowance is given for errors in alignment
If you would like to find out more about the Blaney Agri range, request a brochure or DVD please visit the team or call 048 2587 2801, from NI call 028 2587 2801. Visit www.blaneyagri.com where you can browse the range and view video footage of the machines. You can also follow both companies on twitter and facebook.