Blaney Makes the Cut – HDX Excavator Shredder Head
August 1, 2019
Blaney Makes the Cut – HDX Excavator Shredder Head
Blaney Agri, Co Antrim based manufacturer, known for its extensive range of land management machinery offer a number of high performance flail heads for diggers as well as an extensive range of tractor hedge cutters. Everyone who has seen the Blaney Agri machines agrees that they are well built, strong machines with clever design in all the key areas.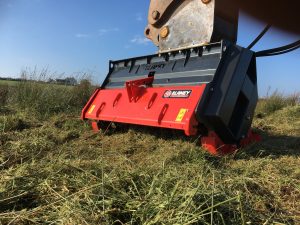 The HDX Excavator Cutting Head is the latest innovation in Blaney's power shredding technology.  Excavators fitted with a Blaney cutting head are the ideal solution to hedge cutting and shredding dense vegetation in inaccessible areas or where ground conditions are soft.  This heavy-duty, high-durability model is intended for use in a contractor capacity.
HDX Head video Watch this impressive machine in action!!
It features a high torque piston motor for increased power which is especially effective for modern excavators with higher operating pressures. All-around design elements produce more efficient dispersal of collision forces with a unique chamber fully enclosing the motor, reinforced by endoskeletal ribs. This new design incorporates more accessible hydraulic attachment layout.
Building on Blaney's power shredder technology, the HDX head uses a high speed dynamic rotor which works in combination with integrated shark fin blades, resulting in material that is chopped to a finer grade.  Perfect for hedge cutting and tackling rushes. Skids are adjustable and provide excellent coverage.  Front and rear debris deflection utilises energy-absorbing chains for increased durability and effectiveness.  An adjustable front cover provides control over the entry rate of material.
Blaney have also developed a unique excavator cutting head which can be used even with smaller diggers.  They are equipped with a special hydraulic 'Powerbox'  – a sophisticated setup that ensures the rotor is running at the right speed and protects the head hydraulic motor from any imbalances in the system. They are designed for optimum manoeuvrability to allow for cutting in closer proximity to the hedge.  Blaney can manufacture these innovative cutting heads to suit any make/model of digger.
Blaney offer a range of impressive hedge cutters including the Agri, Agri Pro and Contractor Series.  These is a model to suit everyone's task and budget, from those wanting to trim their hedges annually to those who work as a contractor facing difficult overgrown hedges.  For those who have special requirements and want a different combination of features, Blaney can tailor machines for a custom build.
If you have lighter hedgcutting tasks where a flail head is not required, the Blaney Compact hedge cutter equipped with a fingerbar trimmer is ideal.  Featuring a low friction, self-lubricating design it is easy to drive and reduces wear and associated maintenance costs. This also gives enhanced performance even on older tractors with less oil flow.
If you would like to find out more about the Blaney Agri range, request a brochure or DVD please call +44 (0) 28 2587 2801.
You can also follow BlaneyAgri on twitter and facebook.